School is starting up again in many states an everyone is going to be wearing a face mask. You could purchase disposable face masks but it could get expensive since you will be throwing them away daily. You could make your own face mask and if you are a good seamstress, can find quality fabric in your area and have the time that is another way to get a face mask for school. Or, you could purchase a quality fabric face mask from Sweeties Swag.
We are making reusable face masks for teachers that can be personalized with a name and/or your school logo. What better way to help your students remember your name than to have your name on the side of your face mask. Show your school's pride by also including your school's logo on the opposite site.
Fabrics we use in our Face Masks
Sweetie's face masks are made using 100% high quality "quilter's fabrics. We use 2 layers of fabric which is sufficient. We have used the spray water test and nothing gets through these 2 layers of fabric. We have chosen beautiful print fabrics for you to choose from or you can choose a solid color with a print inside.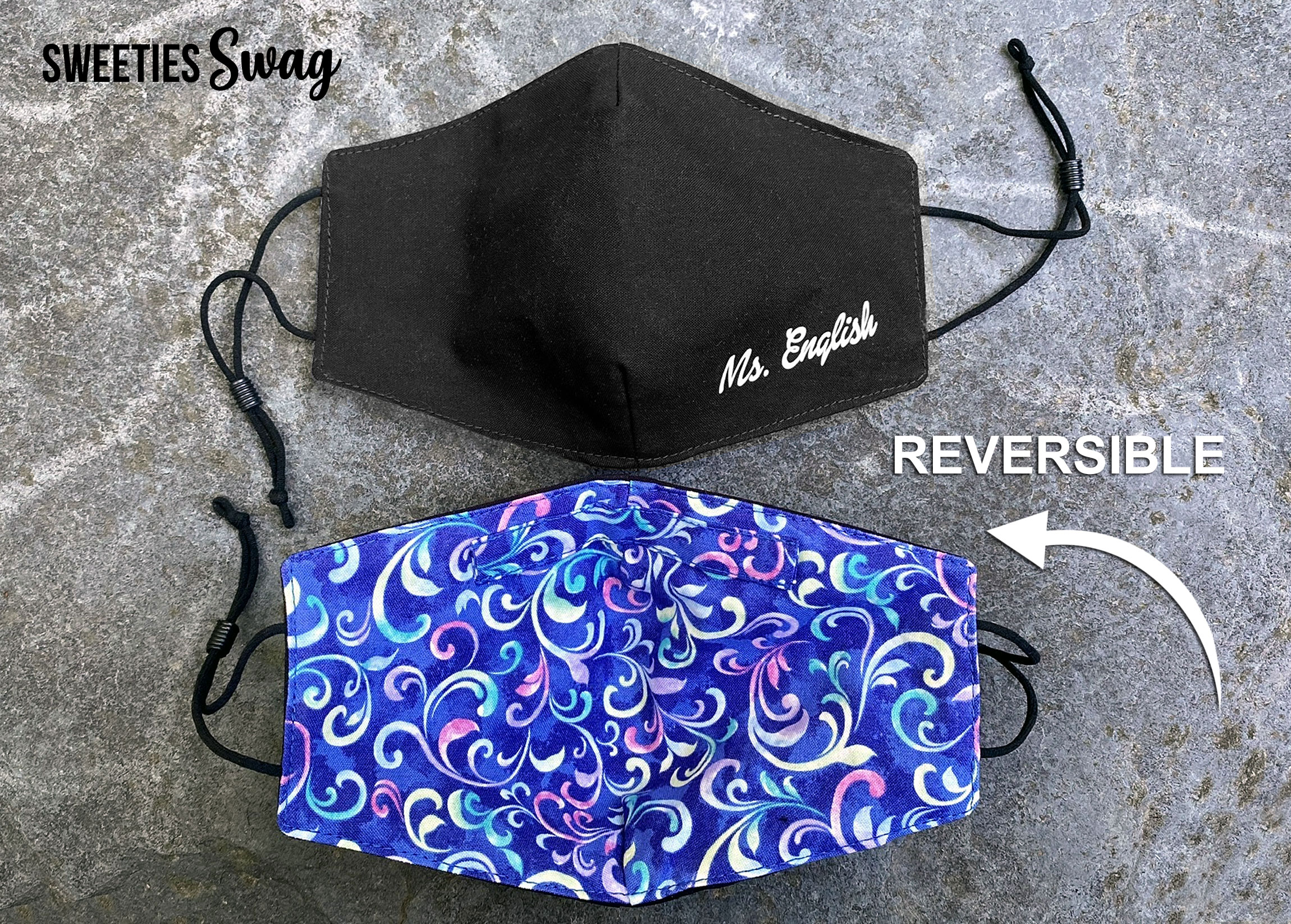 Our Face Mask Design
Our teacher's face mask has a comfortable design. A dart at the nose and another dart at the chin helps the face mask to conform to your face. Inside we have sewn in a nose wire pocket and we also include a flat aluminum nose wire that is inserted in the nose wire pocket.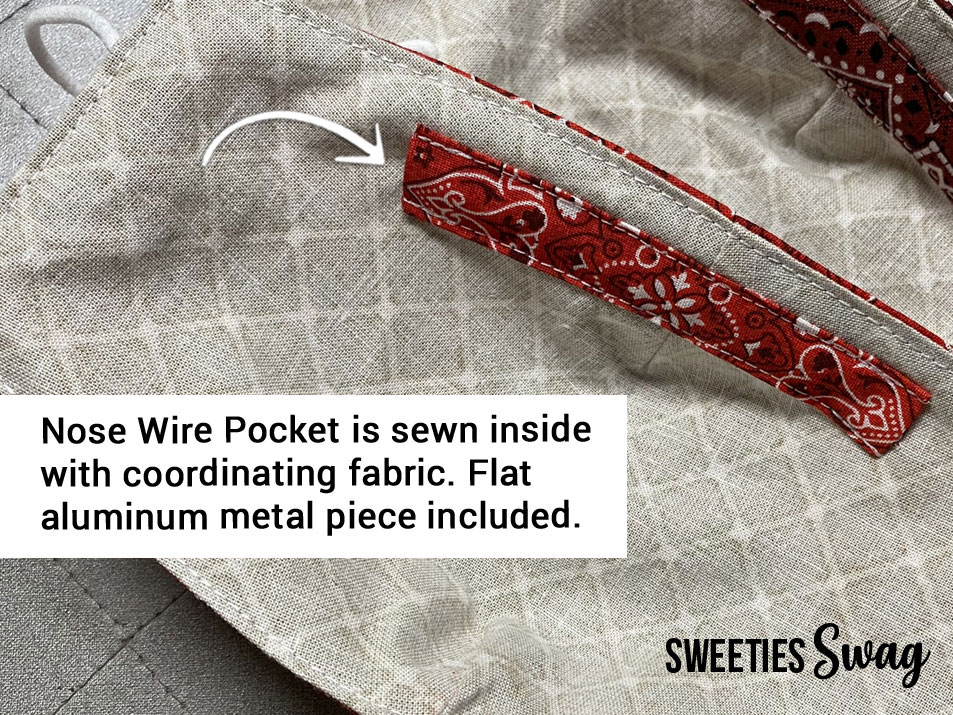 Replaceable Nose Wire
You can easily replace the nose wire we include in our face mask because it is not sewn in the mask. Other mask makers sew in their nose wire and when it breaks, and it will from the constant shaping, you can't replace it and your mask will be ineffective. You can use trashcan bag twist ties as replacement or you could purchase a package of these flat aluminum wires that we use to keep on hand as replacements.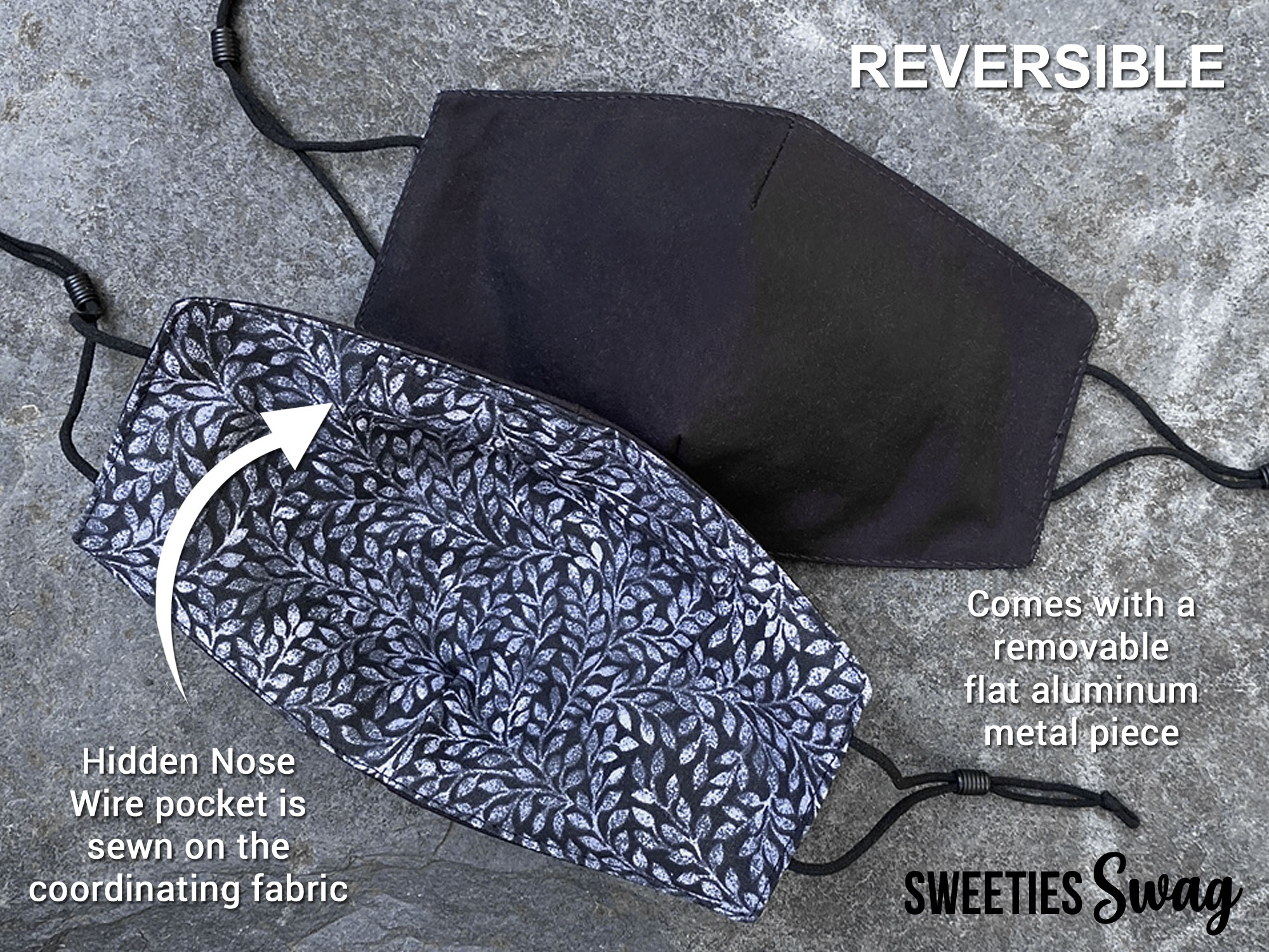 Adjustable Elastic Ear Loops
Some mask makers are still making their masks using rough latex elastic with a fixed size. Why? We never user latex elastic in our masks. Some folks are allergic to latex and it can give off a strong odor. We use soft, round elastic, the kind that is used in the official surgical masks. You can't even feel that you have it around your ears. We also make our elastic ear loops adjustable using soft rubber beads. When making a face mask, there is no "one size fits all" as ever person's head shape and size is different. We include enough elastic that it is adjustable for everyone.
Personalize a Face Mask
Everyone always shops for new clothes when they go back to school. Why not shop for a mask that that fit your personality. Our black face masks come with a pretty pattern fabric inside. You can choose from a variety of designs. This allows the face mask to be reversible if you like. The outside fabric is available in three colors – dark grey, royal blue, and black.
Rock your school's logo, add your name, make your face mask personalized to you. Best of all, our personalized face masks are just $10.00 each. Shipping is just $2.00 for any size order. Order your personalized face mask for back to school today!